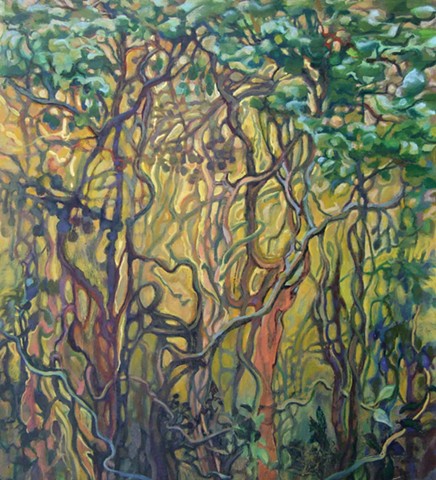 After living in an urban environment for many years and painting from that experience, I now live in a semi-rural area. Strongly influenced by my surroundings, I use simple images of plant forms and landscapes to capture in two dimensions the sublime beauty, fragility and resilience of nature I see everyday.
My work is intuitive and often experimental. I work in a variety of media. I especially like oil paint as it allows the working and reworking of the surface with endless possibilities. This process is not without a bit of soul searching as I explore technical issues and content, giving myself permission to ruin it all in order to find something deeper and more honest.
I received my BFA in painting from the University of Mississippi. I attended California College of Arts and Crafts, and California State University. After 25 years in the San Francisco Bay Area, I now live near Asheville, North Carolina.